**
Air Quality
Air quality is bad right now - I don't have to tell you that. Fire season is in full swing.
This is reminder that breathing through you mouth is a bad idea: and right now it is a very bad idea. If you breath through your mouth the air (and tiny little thing that is in the air) goes straight down into your lungs.
If you breath through your nose everything in the air is subject to filtering in the nose - and there is a long path of opportunity for stuff in the air to get stuff to mucus membranes designed to deal with that stuff.
I have written about this several times on the office Blog - so I hope you are interested enough to look into it and learn more. The Blog is at: https://doctordilday.wordpress.com. From there just use the Search Box to find out more (about anything really:-)
It should go without saying that now is not the time to exercise outside. Right?
**
Tai Chi Classes
College classes have ended, there are no summer quarter classes. Through the summer there will be the usual Monday night classes (see below), and on many/most Thursday nights we will be at Legion Hall, Legion Park doing Tai Chi at about 6:30-7 p.m. for about an hour or so. There is No Fee associated with those Thursday night classes.
Tai Chi Classes & Personal Instruction
CLASSES MONDAY EVENINGS, 7-8:30 PM at PEAK Health & Fitness in Everett, 2902 Rucker Avenue.
FEE: $10 per class (This is a day rate and you do not need to be a member of the gym to participate in the Tai Chi classes!) Classes are $5 each when you buy a punch card for either 5 or 10 classes!!!
During the summer, when the college classes are not going, we meet in Legion Park in front of Legion Hall on Thursday evenings at 6:30 p.m. You are welcome to come watch and/or participate. There is no charge.
Personal Instruction by Appointment
Fee: $69/hour ($150 3 hours pre-paid)
Details: http://doctordilday.wordpress.com/everett-tai-chi-chuan/
"I have studied with a number of tai chi masters and teachers. Their teaching methods often caused me pain- sometimes lasting for months, or did nothing to alleviate the pain my wrong postures were causing. I have read hundreds of books and articles on tai chi and memorized lots of tai chi movements and forms, but after all of that study, my back, knees, ankles, and feet were still hurting. In just two classes you showed me how my physical postures were creating that pain, and you showed me how to move properly, which has reduced my pain by about 90%. I have never seen tai chi presented as effectively as you present it."
Tai Chi student, Summer 2010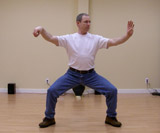 ---