Office Hours During Labor Day Weekend
The office will be closed on Friday, September 1st and Monday, September 4th in celebration of the 8 hour work day, 5-day work week, and the weekend (May Day to the rest of the world!)
We will re-open at the usual time on Tuesday, September 5th (10 a.m.)
Have a safe and healthy holiday!!!
Tai Chi Classes at the Everett Community College
Class starts Thursday, September 21st, at the Fitness Center, Room 231, from 7:20 p.m. to 9 p.m.
Pick up a Class Schedule here at the office and find the details on page 39. (Or go online and look for PE/Health & Wellness Course #102 "Tai Chi".
You can apply, register, pay and get parking taken care of all online at EverettCC.edu
If you have any questions, just let us know and we will be glad to help.
This is a 1 Credit Class, and all the students will be beginners, so if you are new to Tai Chi this might be a great way for you to get started: I did, by taking this class, almost 25 years ago!
Tai Chi Classes & Personal Instruction
CLASSES MONDAY EVENINGS, 7-8:30 PM at PEAK Health & Fitness in Everett, 2902 Rucker Avenue.
FEE: $10 per class (This is a day rate and you do not need to be a member of the gym to participate in the Tai Chi classes!) Classes are $5 each when you buy a punch card for either 5 or 10 classes!!!
During the summer, when the college classes are not going, we meet in Legion Park in front of Legion Hall on Thursday evenings at 6:30 p.m. You are welcome to come watch and/or participate. There is no charge.
Personal Instruction by Appointment
Fee: $69/hour ($150 3 hours pre-paid)
Details: http://doctordilday.wordpress.com/everett-tai-chi-chuan/
"I have studied with a number of tai chi masters and teachers. Their teaching methods often caused me pain- sometimes lasting for months, or did nothing to alleviate the pain my wrong postures were causing. I have read hundreds of books and articles on tai chi and memorized lots of tai chi movements and forms, but after all of that study, my back, knees, ankles, and feet were still hurting. In just two classes you showed me how my physical postures were creating that pain, and you showed me how to move properly, which has reduced my pain by about 90%. I have never seen tai chi presented as effectively as you present it."
Tai Chi student, Summer 2010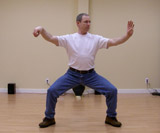 ---