PARKING
Parking is a problem right now because of the neighboring construction project. Until further notice the office will OPEN ON SATURDAYS beginning at 10 a.m. and likely until mid afternoon - depending on what appointments are made. (In other words, if there are no appointments, I probably will not be here very long.)
Tai Chi Classes
• Weekday wake-up Tai Chi (Tuesday/Thursday) 7:30am-8:00am Nippon Business Institute, through the Everett Community College
◦ Learn the ancient Chinese martial art practiced for both its defense training and its health benefits. Discover the joy of movement for balance, grace and patience while gently increasing strength and flexibility. Tai Chi is also a meditation, a healing art and a martial art.
Tai Chi Classes & Personal Instruction
CLASSES MONDAY EVENINGS, 7-8:30 PM at PEAK Health & Fitness in Everett, 2902 Rucker Avenue.
FEE: $10 per class (This is a day rate and you do not need to be a member of the gym to participate in the Tai Chi classes!) Classes are $5 each when you buy a punch card for either 5 or 10 classes!!!
During the summer, when the college classes are not going, we meet in Legion Park in front of Legion Hall on Thursday evenings at 6:30 p.m. You are welcome to come watch and/or participate. There is no charge.
Personal Instruction by Appointment
Fee: $69/hour
Details: http://doctordilday.wordpress.com/everett-tai-chi-chuan/
"I have studied with a number of tai chi masters and teachers. Their teaching methods often caused me pain- sometimes lasting for months, or did nothing to alleviate the pain my wrong postures were causing. I have read hundreds of books and articles on tai chi and memorized lots of tai chi movements and forms, but after all of that study, my back, knees, ankles, and feet were still hurting. In just two classes you showed me how my physical postures were creating that pain, and you showed me how to move properly, which has reduced my pain by about 90%. I have never seen tai chi presented as effectively as you present it."
Tai Chi student, Summer 2010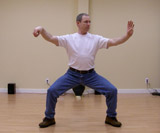 Thursday Tai Chi at Legion Park
Anyone interested, which usually includes students from all the classes that I teach, is welcome to join us on Thursday evenings about 7 p.m. at Legion Park for tai chi. We meet on the Park side of Legion Hall in the covered area - or lawn near it. It is a great way to see what it taught, and learn in an informal and comfortable place (the nicest place in Everett in my view). There is no fee.
---